Mikaeri Suspension Bridge and Mikaeri Falls
| | |
| --- | --- |
| Address | Sekiya, Nasushiobara |
| Phone | 0287-32-2914 |
Overview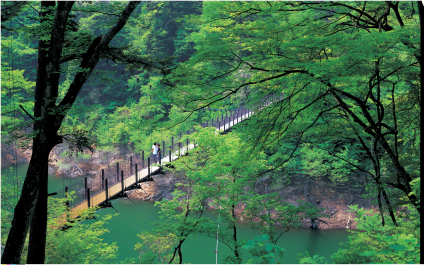 Mikaeri Suspension Bridge
A suspension bridge, 100 meters in length, 30 meters in height, which was completed in 1987 and is the start point of the walkway, is very close to Gama Stone Garden.
It is one of the largest suspension bridges in Kanto area. The beautiful valley with seasonal views gives the visitors different feeling from the one splendid Momijidani Suspension Bridge does.
You can reach the bridge by walking the walkway from the parking of Gama Stone Garden looking at the monument for the novelist Koyo Ozaki.
Mikaeri Falls
Major falls in Shiobara written in Konjikiyasha by Koyo Ozaki. You can see the falls which look like drooping crystal screen at Kanbakudai (stage to view the fall) about 10-minute walk away from the end of the suspension bridge.
The falls were named after the legend that "Outgoing travelers cannot help looking back (mikaeri) at the beautiful bridge."
Special information
Walk information                                        
It takes about 30 to 40 minutes on foot for a round trip between the parking lot of Gama Stone Garden and Mikaeri Suspension Bridge/Mikaeri Falls. You can see many mountain plants such as fawn lily, Trillium tschonoskii and false anemone along the path.